Brand: Drybar
Size: (Available in 2 sizes)
    1.7 oz
    8.5 oz
Ideal for:
    Adding shine to your hair
    Adding bounce without weighing hair down
    Softening hair for those baby smooth hair
Deserved Rating:
1.    Packaging
4.5/5 – Packaging is nice and the shape of the bottle gives that luxurious old school feel. Exactly the same shape ad Drybar Sake Bomb Shampoo
2.    Texture
4.5/5 – Soft creamy texture that applies smoothly all over the strands.
3.    Scent
4/5 – I kind of like the scent of conditioner more than the shampoo even though both scents don't really last longer.
4.    Moisturizing
4.7/5 – Really moisturizing!I just love how may hair feel so smooth when I wash them and so soft and smooth upon drying.
5.    Detangling
4.8/5 – Requires a little work to gently massage all over the scalp and hair till the ends but the end result is super smooth detangled hair.
6.    Overall Rating
4.5/5 – A great conditioner that covers up for its useless and dry shampoo. I would repurchase it for sure.
Do I recommend it?
Yes! By all means especially to those using Drybar Shampoo because this the only conditioner that would help clear the mess caused by the shampoo. That shampoo might be good for cleaning hair but to soften your hair and to add that extra oomph this conditioner is a must have! I would spend on this conditioner but would use any other good drugstore shampoo for cleansing my hair.
Why is it a hit?
    Adds shine to hair
    Formulated without Parabens, Sulfates and Phthalates
    Cruelty free
    Softens hair
    Instantly detangles
    Makes your hair look healthy
Why is it a miss?
Beware!
    If you are happy with your drugstore conditioner
    If you don't want to spend too much on a conditioner
Brace it with:
    Any shampoo to cleanser your hair
    Drybar Sake Bomb Shampoo for additional shine
Ingredients:
Not Available
Photos for Reference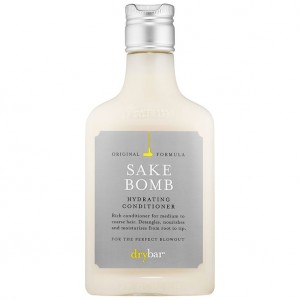 By : Natural Health News
Save
Save