Hot News
Bodies of Suspected COVID-19 Victims Found Floating in Ganges in Bihar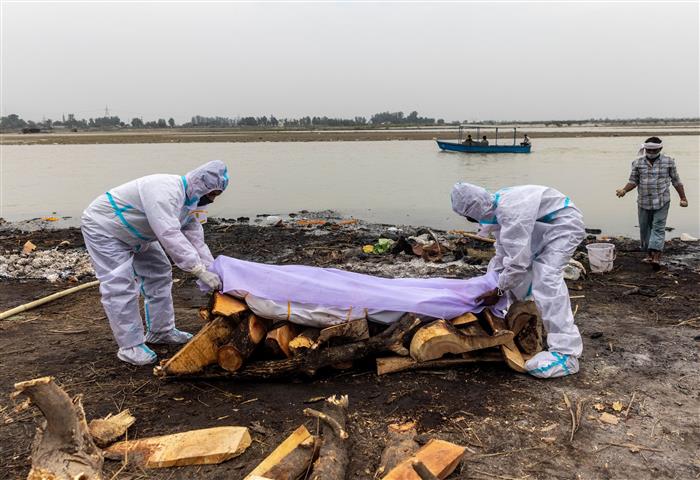 District administration claim corpses came with flow of river water from UP side, arrangements are being made for respectful disposal.
Several bodies, decomposed, bloated and suspected to be of people who succumbed to COVID-19, were on Monday found floating in the river Ganga in a Bihar district.
Around four dozen of corpses were spotted at the two cremation ghats on the banks of Ganga in the district and according to locals, who talked to The Tribune on the phone, said, though many of them were seen floating from west to east (from UP to Bihar), a few of them landed on the banks near Mahadev and Simri cremation Ghats.
"Even as the district administration has been claiming that these bodies have come from adjoining UP districts of Varanasi and Ghazipur with the flow of water in the river, still a few of the bodies were seen tied with bamboos, which indicate that people have come here and abandoned the bodies for fear COVID-19 infections," said Kalicharan Singh, a resident of Chausa block in the district, whose residence is nearby.
He went on to add: "Even the charges of cremation, which used to be between Rs. 5,000 and Rs. 6,000 in normal times, have now gone up manifold, as they are now charging Rs. 16,000 to Rs. 20,000. This may also be the reason for people to abandon their dead bodies,"
However, talking to The Tribune the District magistrate of Buxar Aman Sameer said, "After finding dead bodies on the banks of river Ganges, senior officials of the district were rushed to the spot and they made an assessment of the situation. They have found that the bodies have reached the district with the flow of water in the river. Till now we have found 48 bodies and made all the arrangements for their respectful disposal."
Meanwhile, officials from UP's Gamhar block of the Ghazipur district have also reached to Buxar and a coordinated efforts are on to ensure that bodies are not thrown in the river, said a district officer, adding that near the border, the Ganges enter Bihar in a triangular shape and so water flow is faster and makes it easy for people to throw bodies in the river.
The Sub-Divisional Officer (SDO) KK Upadhyay said it is a matter of investigation to ascertain if these corpses come from Varanasi, Allahabad, or any other place. "We are alerting officials near ghat areas to make sure that it does not happen again," he added.
Resource Link: https://www.tribuneindia.com/news/nation/bodies-of-suspected-covid-19-victims-found-floating-in-ganges-in-bihar-250822