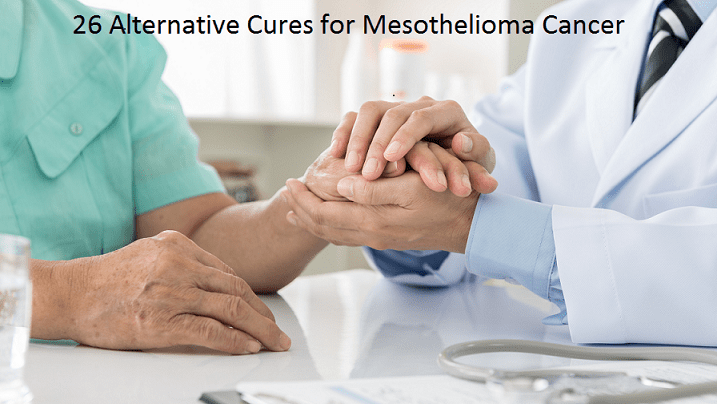 Mesothelioma
The prognosis for patients who are diagnosed with mesothelioma is poor. They might be given the option of radiotherapy, surgery, or chemotherapy depending on the stage of their cancer. They may, however, also decide to use complementary and natural treatments.
Natural Treatment for  Mesothelioma
Many natural therapeutic modalities, including acupuncture, massage, and mind-body therapy, have undergone clinical testing to see if they may be used to cure cancer. Patients with mesothelioma have also been the subject of specific examinations. The majority of the symptoms of cancer can be addressed, and alternative therapies can also assist to lessen the adverse effects of traditional medicine, even if no alternative therapy has been able to cure the disease. Furthermore, they have the potential to significantly raise overall quality of life.
Mesothelioma patients continue to have very low survival rates. Alternative remedies, though, can help them grow. These treatments have been practised for many years and are frequently utilised as palliative care today. Patients and survivors agree that many of these therapies work despite the lack of empirical support for many of them. In actuality, these treatments are used by about 70% of mesothelioma patients.
Let's examine the alphabetically listed X potential natural or alternative treatments for mesothelioma cancer.
1. Acupuncture
Thin needles are put into the body at particular locations during acupuncture. It is a fairly common form of treatment because it has been scientifically shown to reduce pain. It has helped a lot of mesothelioma patients.
2. Aromatherapy
Here, patients receive a bath or massage along with exposure to particular natural oils. These aromas can lift someone's spirits. By doing this, pain is reduced and support for improved general health is given.
3. Art Therapy
This type of therapy is relatively new and has no obvious physical advantages. Thoughts concerning one's state and prognosis can be expressed, which has significant psychological benefits.
4. Biofeedback Therapy
It is referred to as mind-body treatment. It is a holistic approach to pain management. Combating the negative effects of traditional therapy is also highly helpful.
5. Bowenwork
People who receive this therapy find it relaxing. In this way, it can mitigate the negative effects of radiotherapy and chemotherapy.
6. Chiropractic Care
People who receive chiropractic therapy report feeling less pain and more stress released.
7. Craniosacral Therapy
Light is applied to the skull, pelvis, and spinal bones during this procedure. It facilitates better movement of the body and eases tension.
8. Dance Therapy
People can express themselves through dance therapy while also having the chance to move around.
9. Feng Shui
Feng Shui theory holds that improving the flow of qi, or life energy, by the placement of furniture and other items can make people feel better.
10. Healing and Therapeutic Touch Therapy
This is also a novel sort of treatment, but mesothelioma and other cancer sufferers are embracing it in record numbers. Their bodies can unwind and recuperate thanks to it.
11. Health Coaching
All mesothelioma patients should receive health counselling on a regular basis. It will guarantee they consume a wholesome, nourishing food and get enough exercise to stay fit and hasten the rate of recovery.
12. Herbal Supplements
It is stated that Mother Nature has provided us with everything we might possible need for self-healing. As a result, the body may benefit from high-quality Herbal and Nutritional Supplements. The patients will be sure to have all the vitamins and minerals they require in order to be as healthy as possible, if nothing else.
Related Articles: Best 6 Ways to Care for Mesothelioma Cancer

13. Homeopathy
Homeopathy is a contentious but yet very well-liked kind of treatment. It is frequently used in conjunction with traditional medical treatments. However, it should be mentioned that one of the reasons it is so contentious is that some people have started using it instead of traditional therapy rather than in addition to it, but this hasn't produced any fruitful results.
14. Immunotherapy
Numerous immunotherapies are presently undergoing clinical trials. Essentially, it means that cells that aid in the immune system's destruction of malignant cells or that prevent those cells from proliferating are injected into the patient. Immunotherapy has had some extremely encouraging effects in several cases. Patients who have been diagnosed with mesothelioma are urged to enrol in clinical trials being undertaken in the field. Even if it might not improve their personal prognosis, they might be able to share information that will prevent others from developing the condition in the future.
15. Hypnotherapy
The impact of guided hypnosis on the response to various cancer treatments has been scientifically demonstrated. It is becoming widely regarded as a kind of treatment as a result.
16. Light Therapy
In terms of reducing worry and tension, light treatment has demonstrated some advantages that may help cancer patients psychologically overall.
17. Lymph Drainage Therapy
Numerous techniques in contemporary medicine can promote lymph outflow. Alternative treatments, albeit typically less unpleasant and similarly effective, can also be helpful. It is very beneficial for helping people cope with radiation therapy or surgery.
18. Manual Therapy
Anxiety and pain are both reduced by manual therapy. In addition, it provides an opportunity for enjoyment, which is advantageous to psychological wellness.
19. Massage
Massage is an effective therapy for reducing pain and promoting general well-being. People can utilise a variety of massage techniques, including Balinese, Anma, and acupressure. Patients benefit from increased muscle relaxation and general contentment as a result.
20. Meditation
People can learn to stop thinking about their sickness for a little amount of time through meditation. When the mind is free of distractions, the body may concentrate on repairing other areas. It's healthy for the mind, body, and spirit to deeply relax. It eases discomfort and promotes a happy mood.
21. Music Therapy
People have been observed to feel alleviation from both acute and chronic pain when exposed to various noises. Patients with mesothelioma love it a lot.
22. Myofascial Therapy
As it can lessen the pain connected to standard and conventional cancer treatments, this kind of therapy is proving to be highly popular among mesothelioma sufferers.
23. Naturopathy
This treatment closely resembles homoeopathy because it emphasises using natural remedies and the body's inherent healing capacities. It is a holistic approach that emphasises dietary adjustments and encourages patients to take in additional minerals.
24. Nutritional Resources
It's no secret that leading a healthy lifestyle, which includes eating well, is good for your overall health. Patients with mesothelioma can say the same. They can experience pain alleviation and an improvement in their quality of life by consuming a balanced, healthy diet.
25. Osteopathy
Osteopathy can be extremely helpful in battling the negative effects of chemotherapy in particular as well as in reducing stress and weariness.
26. Personal Training and Fitness
Exercise is a part of leading a healthy lifestyle. Maintaining physical health through exercise is beneficial. It also increases feel-good hormones and reduces stress. Even those with mesothelioma benefit from regular exercise since it strengthens the immune system and improves quality of life. Patients with mesothelioma are required to sign up with a personal trainer who specialised in working out cancer patients.